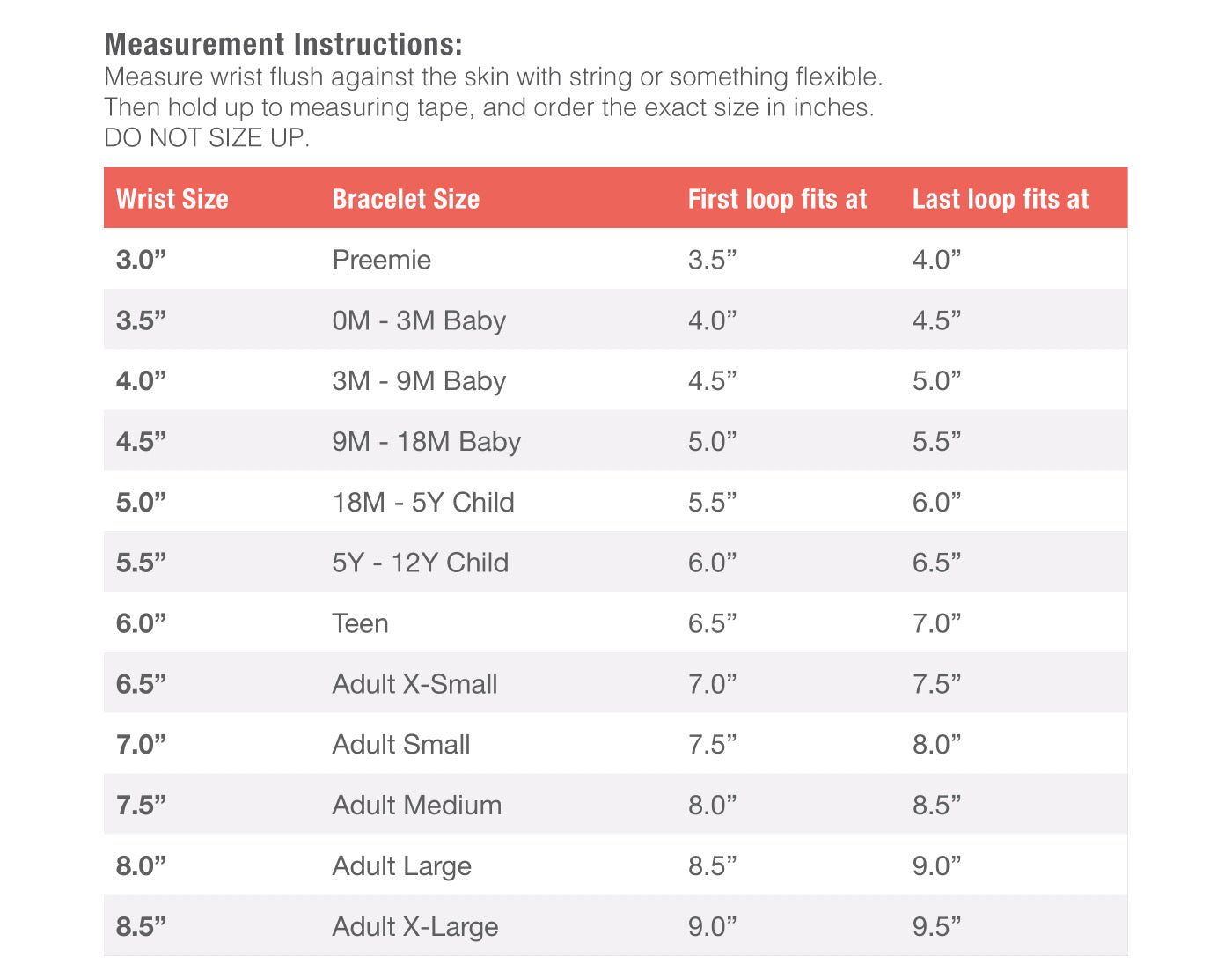 Shipping
Complimentary ground shipping within 1 to 7 business days
In-store collection available within 1 to 7 business days
Next-day and Express delivery options also available
Purchases are delivered in an orange box tied with a Bolduc ribbon, with the exception of certain items
See the delivery FAQs for details on shipping methods, costs and delivery times
Returns And Exchanges
Easy and complimentary, within 14 days
See conditions and procedure in our return FAQs
Poppy Lane & Co. bracelets are made of the highest-quality materials by hand in Los Angeles, California, USA with love from one hard workin' mama.

This bracelet can be worn day and night, looks great stacked with other bracelets, and will be a great heirloom piece to cherish for years to come.
+ The chain on all Poppy Lane & Co. beaded bracelets have three extra loops you can clasp onto and is made to grow with your little one so you can size it specifically to his or her wrist. Each chain adds an extra .5 inch of wiggle and/or growing room.
+ Poppy Lane & Co. beaded bracelets come in either sterling silver or 14k gold-filled hardware: wire, chains, and clasps. These will not tarnish if taken care of properly.
THE HILARY:
Our 4mm Mother of Pearl with five black lava beads in the center, with metallic accents.
--

SIZING INSTRUCTIONS:

Please measure your child's wrist, or your own, flush/tight to the skin in inches and pick the size that matches most closely. (ie. if your wrist measures 6.5 inches, choose the 6.5" Adult X-Small. If your wrist measures 6.75, choose the Adult Small)
OR
you may email me (stacythiot@poppylaneandco.com) or write your exact size in the comments section at checkout and I will make it a perfect fit just for you!
We do not accept any returns or exchanges at this time so be sure to order the correct size, please.

Bracelet Sizes:
-3.0" (Preemie Baby)
-3.5" (0M to 3M Baby) 
-4.0" (3M to 9M Baby) 
-4.5" (9M to 18M Baby) 
-5.0" (18M to 5Y Girl) 
-5.5" (5Y to 12Y Girl) 
-6.0" (Teen)
-6.5" (Adult X-Small)
-7.0" (Adult Small) 
-7.5" (Adult Medium) 
-8.0" (Adult Large) 
-8.5" (Adult X-Large)

--

How to care for bracelets: 
+ removing bracelets before meals will help the beads not discolor and last longer
+ taking off the bracelet at night is recommended for child's safety
+ to clean, wipe with damp cloth or baby wipes to spot clean, or use a jewelry polishing cloth
+ sterling silver and 14k gold may tarnish over time if not properly cared for
+ water (including bath and pool) may damage the bracelet, please do so at your own risk
+ please watch teething babies carefully
+ diffuse essential oils on our lava bead bracelets safely - not recommended for children under the age of 2
+ if bracelet seems tight when baby is crawling, please remove immediately, or loosen to the last chain link (or buy a bigger size, yay!)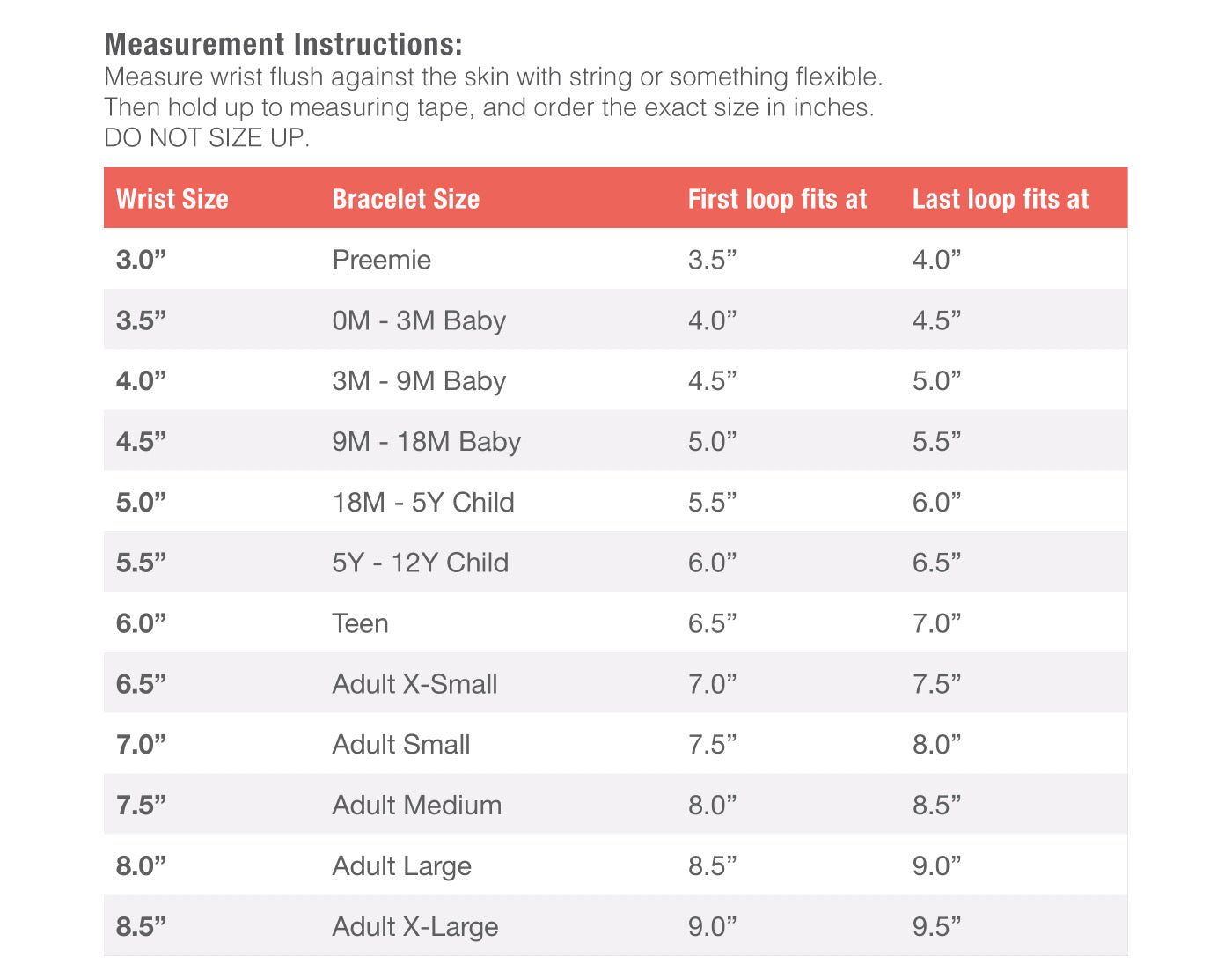 Visit our Frequently Asked Questions (FAQ) page here to learn more about our shipping, turnaround time, and return policies